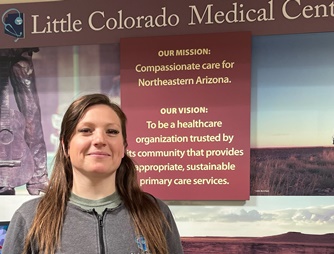 Allison Taranto is a Family Nurse Practitioner and Certified Nurse-Midwife who has been living and working in small, rural towns for the past 5 years. She has worked throughout Montana, South Dakota, and Tuba City.
She is a lover of animals big and small. She and her husband have a small farm on their 5 acres outside of Flagstaff with pigs, goats, chickens, a horse, and a burro. Allison loves ranch life, and would happily accept any and all invitations to roundups and brandings. She also loves gardening, although the jury still out on her success in this endeavor.
When she's not at work, she likes listening to country music, going to monster truck shows, hiking with her husband and dogs, and horseback riding. She would like to start team sorting again. So far she has met some wonderful people from Winslow and the surrounding communities, and she looks forward to serving people with the best evidence-based medicine.
She is now taking new patients. Call 928-289-3396 to schedule an appointment.