Please read the attached letter in response to an article in the Navajo Hopi Observer on April 28th and Arizona Daily Sun.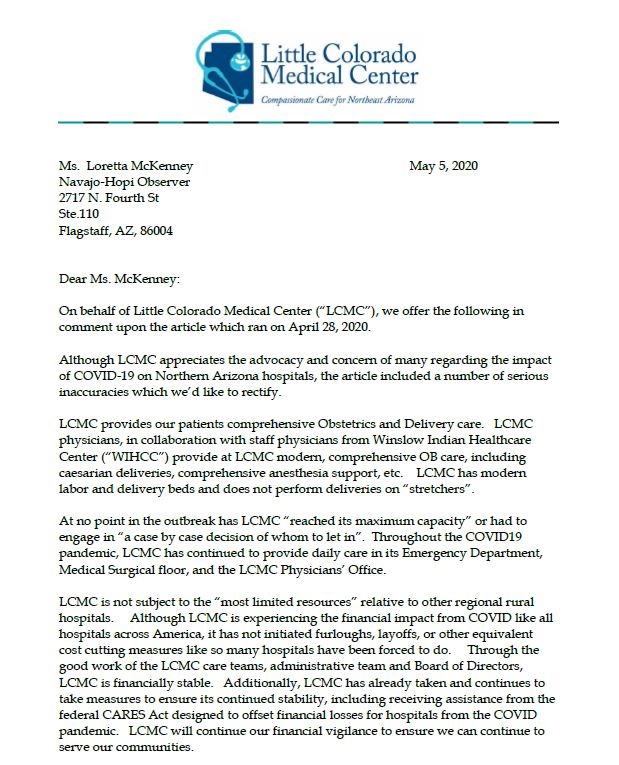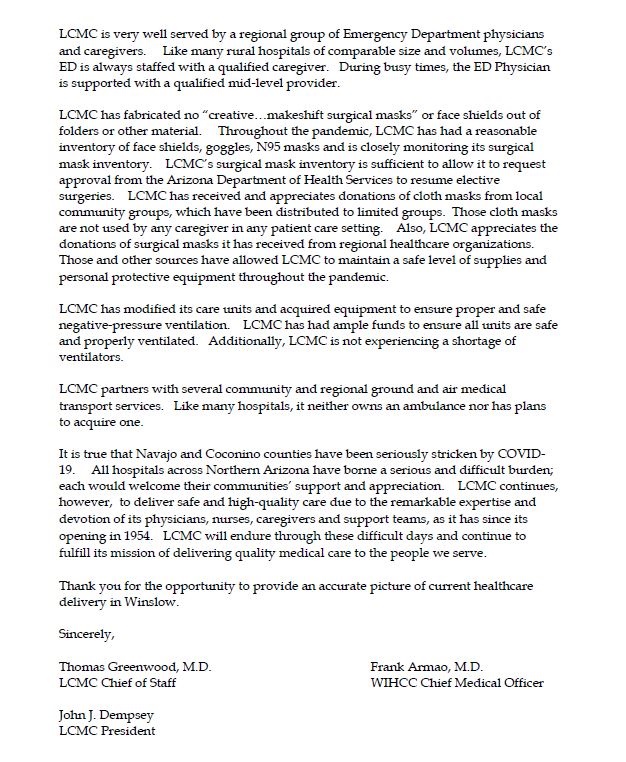 LCMC currently has 7 inpatients, one inpatient is COVID-19 positive and one patient has COVID testing pending.
LCMC wants you to know that the Emergency Department staff is here for you, and if you feel that you have an emergency, COVID-related or not, don't hesitate to access the help that you need. We are here and want to care for you, we are here 24/7/365 for patients who need us.
Our staff is ready to take care of emergencies of all kinds and have taken steps to lower the risk of transmission to keep patients and staff safe. Please don't avoid the Emergency Department because it may very well be the best place for you.
If you have a mask please wear it to the hospital (ED, Lab, Radiology, etc), we have been providing masks but it will help to conserve masks for others if you wear your own. Please refer to these links for further information about COVID-19: Arizona Department of Health Services: https://azdhs.gov/preparedness/epidemiology-disease-control/infectious-disease-epidemiology/index.php#novel-coronavirus-home Navajo County Public Health Department: https://reports.mysidewalk.com/ebaab58e56
First day of the month: For many Arizonans and businesses this is the day bills are due -- mortgage, rent, utilities, and internet, among others. A few reminders for your residents that may be struggling:

Renters: Eviction orders are halted for anyone quarantined or facing economic hardships due to COVID-19.
Utilities: APS, SRP, TEP, and six electric cooperatives have agreed that no customer will lose power or assessed late fees or interest due to inability to pay during the COVID-19 emergency.
Banking and mortgages: Arizona banks are suspending home evictions and foreclosures for at least 60 days, with the potential to extend that period for the duration of the emergency declarations. Most banks have adopted payment deferral programs. If your residents -- homeowners, borrowers, small businesses -- are struggling to make payments, they should contact their banks directly to discuss payment deferral plans for the emergency.
Internet: Wireless and wireline internet service providers have committed to not terminating service for any residence or small business because of inability to pay due to COVID-19 as well as waiving late fees for those with COVID-19 economic circumstances: https://www.fcc.gov/keep-americans-connected. Many internet providers have deals specific for the COVID-19 emergency and special offers for families with K-12 students those offers are compiled on https://www.azcommerce.com/covid-19/essential-infrastructure/ , by the Arizona Commerce Authority.
As a reminder, the Arizona Commerce Authority has compiled resources for small businesses and workers facing employment loss.

"Stay Home, Stay Healthy, Stay Connected"

The Executive Order began Tuesday, March 31st yesterday at 5 pm and ends on April 30th, unless extended.
Ongoing Recommended Resources
Arizona Specific Worker and Small Business Resources: the Arizona Commerce Authority has compiled resources for small businesses and workers facing employment loss: on. https://www.navajocountyaz.gov/Press-Release/ArtMID/11983/ArticleID/76/Media-Advisory